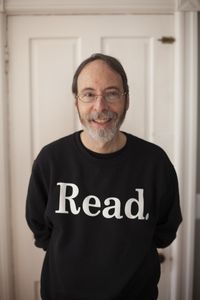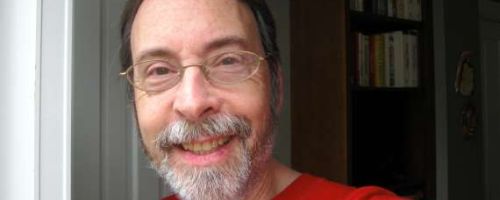 The first thing you'll probably do when you visit Children's Author Dan Gutman's website (http://www.dangutman.com)...is smile. And that's the crux of Dan's whole persona, IMHO. He's a cool guy. A fun guy. Not like goofy-fun, but the kind of fun dude you could totally hang out with for the entire day. The kind of guy you might even want to emulate. Definitely the kind of guy who makes you smile.
I have a special affinity for children's authors. They're a breed unto themselves, and one that (sometimes, unintentionally) has taken on the responsibility for inspiring a passion in reading among our kids. It's a noble calling, and not one to be taken lightly. So in that regard, I already liked Dan, even before our interview. But I quickly discovered that the author I thought I knew well, was way beyond what I had previously learned about him.
The author of well over 100 titles, Dan Gutman is no stranger to the world of writing. Your kids probably already love his work through his successful book series like The Genius Files, the Funny Boy series, the Million Dollar and Homework Machine series, or the wildly popular Baseball Card Adventures series. And of course, the My Weird School and My Weirder School, and the My Weird School Daze series.
You can check out the book trailer for the Genius Files here: http://youtu.be/LMsDvLAVk48. It's awesome.
Dan is also a fierce environmentalist and advocate for protection of the Earth and its preservation for future generations. I'll let him lead you through that facet over at http://www.dangutman.com/pages/earth.html. It's well-worth a look, and your support.
If you aren't a fan of Dan Gutman's yet, then what are you waiting for? Really. Get on over to http://www.dangutman.com/ and join the fan community. Take your kids with you, and they'll have a blast. You can also socialize with Dan on Facebook (https://www.facebook.com/pages/Dan-Gutman/60020139122?ref=ts) and Twitter (@dangutmanbooks). Say hi to me when you do because I'm already camped out there.
Anticipating a few well-chosen, lighthearted words, I honestly didn't expect a really deep FOTF, here. But again, my powers of perception are proven, weak. Because Dan has humbled and led me down an unassuming path of wisdom. Unexpectedly. And I'm happy to report that I am quite inspired as I post this.
Join me for the next five minutes (or less) and read, enjoy, smile and be inspired as we chat with the always-enjoyable Dan Gutman!
(FYI, this post is also available at http://fiveonthefive.edublogs.org/.)
RF
---------------------------------------
1.    Who has been your greatest influence (personally or artistically), and how?
I was not a big reader as a kid.  I grew up on Mad Magazine, Get Smart, National Lampoon, Laugh-In, Woody Allen, and later, Saturday Night Live and Seinfeld.  Comedy was what interested me, and I like to write humor today.  But I would say that my greatest influence was The Beatles.  Their originality, enthusiasm, sense of humor, willingness to break the rules and the way they grew as artists influences everything I do to this day.  I honestly think I would be a different person if I hadn't been watching The Ed Sullivan Show that night when I was nine years old.
2.    Which previous job/project had the most impact on you, and why?
I'm not supposed to say this, but when I moved to New York after college to become a starving writer, I spent three years working on a "girlie magazine."  And I'm not ashamed of it.  If I had gotten a job at a big company, I would have learned one small part of the publishing business.  But because our magazine was put together almost in its entirety by just four people, I had to learn everything.  Writing.  Editing.  Working fast.  Working under deadline.  Working with the art department, production department, circulation department, and so on.  It was a great training ground for me.  I used it as a springboard to launch my own magazine (about video games), and I also met Nina, my wife of 31 years.  But that's another story.
3.    Is there a "secret of success"? If so, what? And if not, why?
I know it's a cliché, but the secret to success is simply working your butt off, being yourself, and most of all being persistent.  I've been rejected hundreds of times, and I never give up. Oh, and having a little talent helps too.  But it's not the most important ingredient.
4.    Is there a particular moment or event that had a great effect on your life or career?
I made two smart decisions a long time ago that changed everything for me, and I didn't realize they were smart at the time.  The first one was deciding to try writing for kids.  I started out writing for grownups, and I was not successful for many years.  I couldn't break through.  I wasn't supporting myself.  I wasn't very good at it.  Then my son Sam was born and I decided to try writing for kids.  Almost right away, I felt like, "This is what I'm good at!  This is what I was made to do!  This is what I should have been doing all along!"  So I switched to writing for kids, and now I just write for kids.
The other decision was to try writing fiction.  I am not a storyteller.  I don't remember jokes.  I rarely read fiction myself, and never took any classes teaching me how to write.  But of course, I noticed that just about all the FAMOUS children's book authors wrote fiction, and I wanted to be famous so I thought I'd give it a try.  I wrote a silly little baseball novel called They Came From Centerfield.  I sold it to Scholastic, and I never looked back.
5.    If you could share one, single pearl of wisdom, what would it be?
Here's a little trick I use.  I think I invented it.  After you write your first draft of something, read it out loud and PRETEND THAT YOU'RE NOT YOU.  Pretend you're a teacher, a librarian, a kid, a stranger.  When you read what you've written through somebody else's eyes, you can see the mistakes you've made and how you can improve your writing.  
# # #
Children's author, writer, author, Weird School, Baseball Card Adventures, Baseball, Centerfield, Greenpeace, environmentalist, computers, video games, magazine, computer games, Scholastic, inspiring, inspirational, motivational, success, secret of success, wisdom, pearl of wisdom, encourage, hero, mentor, interview, five minutes